Penny slot machines are one of the biggest draws in casinos. However, you may have difficulty finding true penny slots at your favorite casinos.
Few casinos actually provide slot machines that only cost $0.01 per spin. Instead, the "penny" aspect refers to how much you need to bet on each available line.
That said, you might wonder if it's possible to find real penny slot machines. I'll cover this matter below along with the one place where you can play games for one cent.
Land Based Casinos Never Have True Penny Slots
Brick-and-mortar casinos advertise their penny games quite heavily. They'll often place banners above a bank of machines that draw gamblers to their penny machines.
However, the terminals found under these banners cost far more than $0.01 to play. They typically have 20 or more fixed paylines.
If you play a slot with 50 fixed lines, for example, you'll need to bet $0.50 per spin. Fifty cents may not sound like a big investment.
However, these $0.50 bets rack up over time. You'll risk hundreds of dollars per hour when spinning the reels at a consistent rate.
You Must Look to Certain Online Casinos
Many gaming sites also feature fixed paylines. Therefore, you'll need to bet around $0.20 or more per round at relevant sites.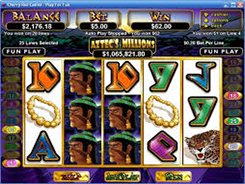 However, certain online casinos only require you to risk one penny per round. You can turn your coin size to $0.01 and use a single payline to wager just one cent.
Both Realtime Gaming (RTG) and Rival Gaming casinos offer such options. Not every RTG and Rival slot lets you use just one line, but a good portion do.
Unfortunately, you won't have many chances to win at this rate. You should still have fun with these games, though, if you're looking to play true penny slots.