Pennsylvania has shut down its slot machines during the coronavirus (COVID-19) pandemic. However, so-called Pennsylvania skill slot machines have continued operating during this time.
Unlike regular slots, skill-based gaming terminals operate in convenience stores, bars, and restaurants. They work slightly differently than regular slot machines.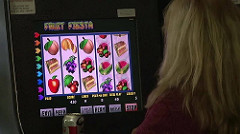 Therefore, PA businesses feel justified in running skill machines during the pandemic. But as I'll cover below, Pennsylvanians Against Illegal Gambling (PAIG) want justice for these skill games running during COVID-19.
What Is PAIG Doing About PA Skill Slot Machines?
PAIG has launched a radio campaign against businesses that run skill-based terminals. The group notes that these machines are operating illegally while the 12 licensed Pennsylvania casinos stay closed.
The Pennsylvania Lottery continues operating during coronavirus fears. However, it has seen its revenue drop over the past few months.
This scenario has helped Pennsylvania skill slot machines thrive while regulated gambling suffers. Businesses that offer skill-based games only pay standard taxes.
Meanwhile, licensed casinos and the PA Lottery pay additional taxes to help cover education and other costs in the Keystone State.
In addition to floating the law and not paying high enough taxes, skill-based operators increase the chances of COVID-19 spreading. Players could unknowingly spread coronavirus germs through the machines.
What Are Skill Slot Machines?
The PA skill-based games differ from the skill terminals featured in Atlantic City and Las Vegas. They offer a pre-reveal mechanism that adds a slight skill element into the equation.
Operators claim that the pre-reveal aspect makes their games different from standard slot machines. However, their terminals still give the house a long-term advantage and are thus gambling by any definition.
PAIG argues that skill slots should be shut down just like any other gaming terminals during COVID-19 fears. The government may take a closer look at this matter as a result.