Las Vegas is home to over 160,000 slot machines. This large quantity makes finding the best paying Vegas slot machines highly difficult.
You may find yourself walking aimlessly around casinos looking for games with high return to player (RTP). Luckily, you can cut down on this work simply by knowing where to find slots with solid RTP.
The following information discusses where you should head to find Vegas slot machines that actually pay.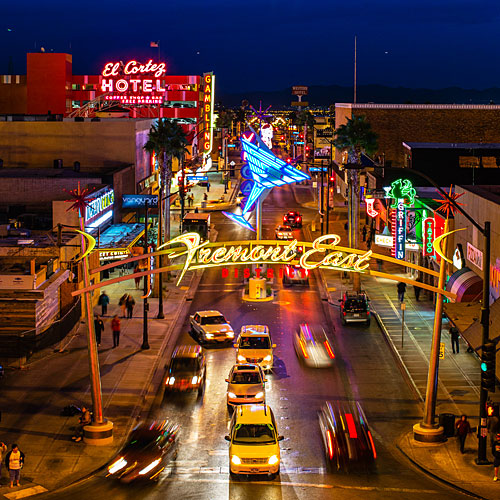 Anything Off the Vegas Strip Will Work
Las Vegas Boulevard (a.k.a. the Vegas Strip) is the premiere attraction in Sin City. It's home to some of the world's biggest gambling resorts.
Unfortunately, the Vegas Strip also offers really crappy slots payback. I'm talking really, really crappy.
Most slot machines on the Strip offer less than 90% RTP. This payback means that you'll lose $1 out of every $10 wagered on average.
You should consider visiting the Vegas Strip for the sights and attractions, but you should stay away from the slot machines.
Assuming you still want the lights and glamour of the Strip without getting beaten down in slots, then head to the Palms. This casino is just one block off the Strip and offers nearly 94% RTP on average.
Head Downtown for the Absolute Best Paying Vegas Slot Machines
The Boulder Strip and downtown Vegas are the best spots to head for good slots RTP. Downtown is especially good with regard to high payback.
El Cortez, Sam's Town, and the Golden Nugget are perfect examples of casinos with quality payout percentages.
These establishments aren't the glitziest in terms of amenities and posh decor. However, they're perfect for winning with slot machines.
In summary, the best paying Vegas slot machines are found away from the Strip. You can enjoy plenty of high paying games on the Boulder Strip and downtown.